Part of the reason I was so swamped in April/May and didn't come close to finishing my Eliza Schuyler dress (I'm still just on the skirt now…) was because my Advanced Flat Pattern class took a ton of time. We had to sew up one top per week; even with totally unfinished seams and closures, the pattern alterations plus the sewing was really time consuming.
Luckily the teacher allowed us to make one of the garments fit ourselves instead of the dress form (which measures 35-25-35 [which are certainly not my measurements]).
If the dress was going to fit me, I was going to put actual effort into it!
An earlier project in the class had me looking up sheath dresses, and (only a few years after everyone else) I fell in love with the dresses from Mad Men.
Specifically, I needed to have this dress:
Cue me ordering some fabric (because solid colored stash fabric would not do), making up the pattern, and sewing. Noting that this is a friggin check, so I had to pattern match everything! Or at least as much as was match-able. Given that this has an asymetrical skirt, it was not possible to match everything horizontally and vertically.
Despite the fact that I made a full muslin, when I went to put on the dress, It Was Horrible.
I made the pattern from a fitted sloper that already fit me, but there was way too much ease in the waist. I need to go back and see what's up with the sloper, because there is clearly Something Up with the wearing ease. (See, this is why historical stuff is easier. Just fit it tight over the corset, no bothering to figure out how much ease is comfy vs baggy…)
First I stomped around and considered just turning in the garment as is, knowing that I would probably never go back to fit the thing again.
Then I sucked it up, and with a day left before the garment was due, I pinned it up to figure out how much I needed to take in and started cutting. Cue taking out the side seams (which were serged) and removing the pockets (damn skippy this dress was going to have pockets).
And then disaster struck – I started cutting on the seam line instead of including seam allowance on the back skirt.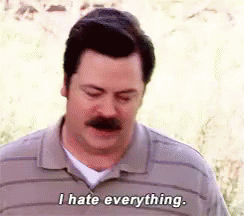 There are not enough gifs in the world to express the trancendental depths of my rage.
So I SUCKED IT UP once again, took out that back piece completely, and cut a new one. Luckily I have no idea how much fabric modern clothing takes and had bought way too much, even considering for the fact I had to match checks. This required me to take out serged seams (ew), as well as the beautifully even hand-picked zipper (grrrrrr).
Finally the dratted thing was done, and looks pretty cute!
There are a few oddities here and there – namely the collar facing keeps wanting to flip towards the outside, and no matter how much I iron that kick pleat over my leg won't stay pleated.
But still, it's super fun to wear clothing I've made to work and it makes me really want to make more. I'm still waiting for someone to compliment me and ask where I got it, so I can humblebrag that I made it…